Where:
Commercial dish or glass washer
When:
For removal of hard water deposits and/or rust
Why:
To improve the efficiency of the heating element in the warewasher if hard water has been present. To remove rust marks that could taint washed items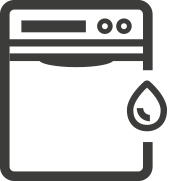 How:
Used by trained personnel only. Ensure machine is rinsed, drained and free from residual chemical. Pour enough descaler into the wash tank to cover the element. Leave for 10minutes to dwell. Drain and run 4 complete wash cycles before commencing use.
PPE:
Gloves
Glasses
Avoid:
Use by untrained personal
Packaging:
2X5L
Application:
Neat
Product Description
Maintenance chemical to be used to remove scale build up on heating elements and on the inside of the warewasher. Will improve efficiency and raise wash temperatures. Will prolong the life of equipment. Can be used to descale boilers, kettles and other heating elements.