Where:
Carpets, rugs, upholstery and hard surfaces
When:
For the removal of chewing gum and sticky labels
Why:
When normal cleaning has not worked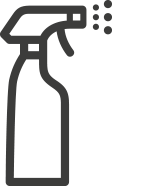 How:
Use neat. Scratch gum or label with a scraper. Apply liquid, leave to dwell for 15 minutes. Remove with a scraper or scourer. Repeat process if required.
PPE:
Gloves
Glasses
Avoid:
Avoid contact with the liquid over large areas of unaffected surface
Packaging:
2X5L
Application:
Poor onto surface in small amounts neat
Product Description
A specially developed formulation that removes chewing gum and sticky residues from carpets and hard floors.