Where:
Sealed wood, laminates, furniture and work surfaces
When:
To remove dust and marks during general room cleaning
Why:
To leave a streak free, high shine, rapid clean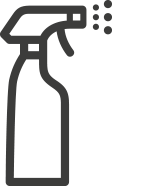 How:
Apply neat from a trigger spray, onto all sealed wood and laminate furniture. Polish to a high shine using a dry soft cloth.
PPE:
Avoid:
Glass mirrors and stainless steel surfaces. Spraying onto electrical points and equipment.
Packaging:
2X5L
Application:
Trigger spray
Product Description
Pleasantly scented to leave surfaces with a pleasant clean aroma. Will provide a polished high shine, streak free result. Formulated to ensure dust is retained on the cloth and not distributed around the room.