Where:
Bathrooms and wash rooms
When:
Daily cleaning to remove soiling
Why:
To leave a clean, pleasantly scented washroom. Removes soiling, water marks and soap scum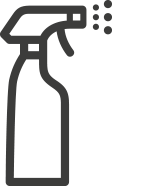 How:
Apply neat from the trigger spray to baths, shower screens, sinks, toilets seats and tiled areas. Agitate with a warm damp cloth or sponge. Polish with a dry lint free cloth to a high shine finish.
PPE:
Gloves
Avoid:
Carpets, towels and soft furnishings
Packaging:
2X5L
Application:
Trigger spray
Product Description
Will remove soiling, water marks and soap scum. Leaves a pleasant, clean odour. Surfaces can be polished to a high shine finish. Will remove bath oil residue and leave taps scale free and shiny if used regularly.