Where:
Grease traps, drainage pipes, sinks and drains
When:
To be used once every 24 hours. Use at night
Why:
To keep drainage pipes free from grease and food deposits. To maintain grease traps and prevent blockages and drainage overflows.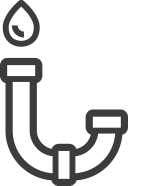 How:
To be dosed via auto dosing systems after kitchen close down. Dose at 150ml per day. Can be dosed manualy. Dilute 150ml into 5L of warm water into sink nearest to drain outlet/grease trap.
PPE:
Avoid:
Dosing in conjunction with other chemicals
Packaging:
2X5L
Application:
Neat auto dosed or diluted manually
Product Description
Formulated to prevent excess build up of grease and food residue. Enzyme formulation digests grease and protein safely and effectively. With regular use Enzyme Drain Maintainer will prolong drain life and negate the need to use corrosive chemicals.